Hire Wedding Musicians
Wedding Musicians mature, experienced and professional
When you are looking to hire wedding musicians for your reception, you want to know you have a certain flexibility.
What if the bride is late?
What if the groom is late!!

These Latin guitar musicians have a large repertoire. They play – delightfully sparking off each other - continually playing without needing to read music from a music sheet and therefore easily adapt to cover for those unplanned events or a pause in the proceedings keeping any tensions that arise defused.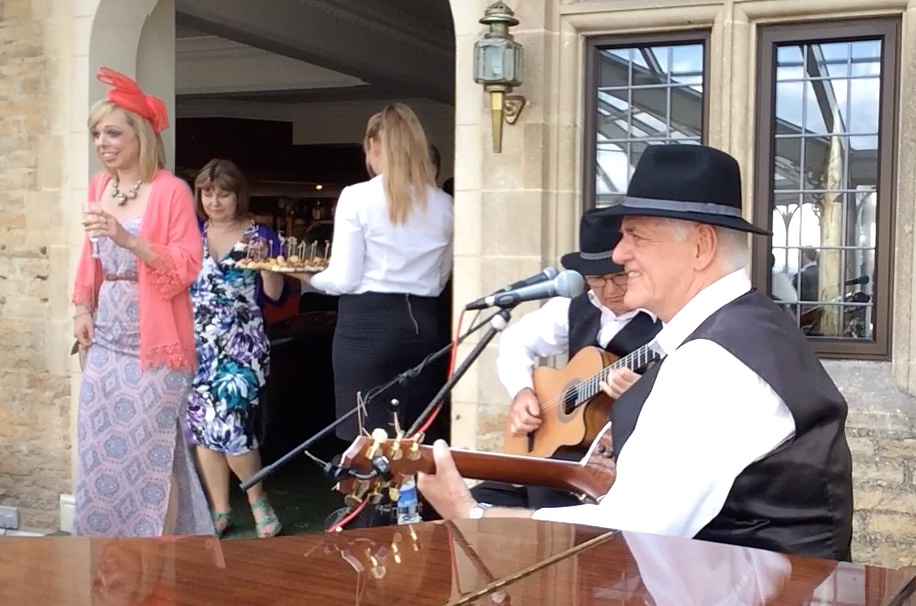 For your wedding music, you want to hire musicians with both the musical skills and the entertainment skills to adapt to any unforeseen events.
Gilmore n Jaz will not be phased by any hiccups.

Wedding Musicians to play at YOUR reception
For your wedding reception you want experienced musicians you can trust to take care of the music and allow you to get on with enjoying your special day.
The music is important and we aim to to support you both whilst not intruding upon the days by complimenting both families to mix and mingle by setting the tone for people to talk or dance if they feel like it at a correct volume to suit all. but this day is about YOU and your loved one.
If you want musicians who will know and understand that this is YOUR DAY, hire these musicians for your wedding reception.

Unique and adapted to YOUR requirements
These two Swindon musicians have fallen in love with the Latin Jazz vibe which is found in much of their self composed music. However they both have extensive experience in performing in show bands and cabaret.
Do you have a special song you want played? Ask in advance if Gilmore n Jaz can play it for you.

If you have any other particular requirements to make your wedding reception unique and special, please don't hesitate to ask Gilmore n Jaz if they can adapt.

For example, we have in the past when providing music for one wedding reception, the 2 Stevie's (Gilmore n Jaz) were hired to play their guitars as they strolled amongst the guests to create a warm and unique atmosphere of sunny Mediterranean music.

What they offer...

is the experience and skills gathered from fifty years of performing live music for all occasions.
Book Gilmore n Jaz for any of the following:
Hire these musicians to play as the guests wait for the wedding ceremony or service to start.
Book these musicians to play the famous wedding music Pachelbel's Canon as the bride and groom walk down the aisle.
Let your guests enjoy skilful and unique Latin Jazz music while they eat their canapés.
Is there a gap between the wedding ceremony and the wedding reception? Hire these Latin Jazz musicians to give a concert to keep your guests entertained.
Book these musicians for the early part of the evening either as background music or as a concert.
Let your wedding guests sit and marvel at the skill with which Stevie Gilmore and Stevie Jaz blend two guitars.
(If there is a guitarist among your guests, you will probably catch him or her watching closely.)
Enjoy the wonderful upbeat sunny music of this talented Spanish guitar duo.
Although people can and definitely do dance to the Latin music of this talented guitar duo, please note that their wedding music is not suitable for a disco environment.

Move to the home page.