Wedding Breakfast Musicians

Book outstanding Swindon musicians for YOUR very own wedding breakfast music

Your very own live wedding breakfast musicians will perform at your special celebration.
when you call GILMORE n' JAZ you will get one of  THE very BEST  professional services on offer for wedding breakfast music nationwide.
Gilmore n' Jaz  are THE wedding breakfast musicians to create for you, your friends and family, a beautiful romantic atmosphere that will just make the rest of the big day perfect.
It really does'nt matter if everything runs late or if the weather has turned gloomy...'Really?' we hear you ask...'Absolutely' we say because it's good Swindon wedding musicians like Gilmore n' Jaz who have all the experience necessary plus the relevant skills needed to cope with whatever the weather does. Stormy skies? no problem, thats 'cosy' music time for your very own wedding breakfast musicians. Heatwave overcooking the room? Lets make a virtue of that and get a proper Gilmore n' Jaz tropical Latino mood going, after all, it's all about the atmosphere at the Gilmore n' Jaz wedding breakfast music live lounge. Late guests? Late wedding couple? don't worry. We've got that covered. You wont need to be stressed about your guests impatiently awaiting your arrival as we can keep them up-beat entertained and having a good time enjoying the music...they might not even notice that everything was not quite as planned.
We are GILMORE n' JAZ and we are the perfect wedding breakfast reception musicians for YOUR big day.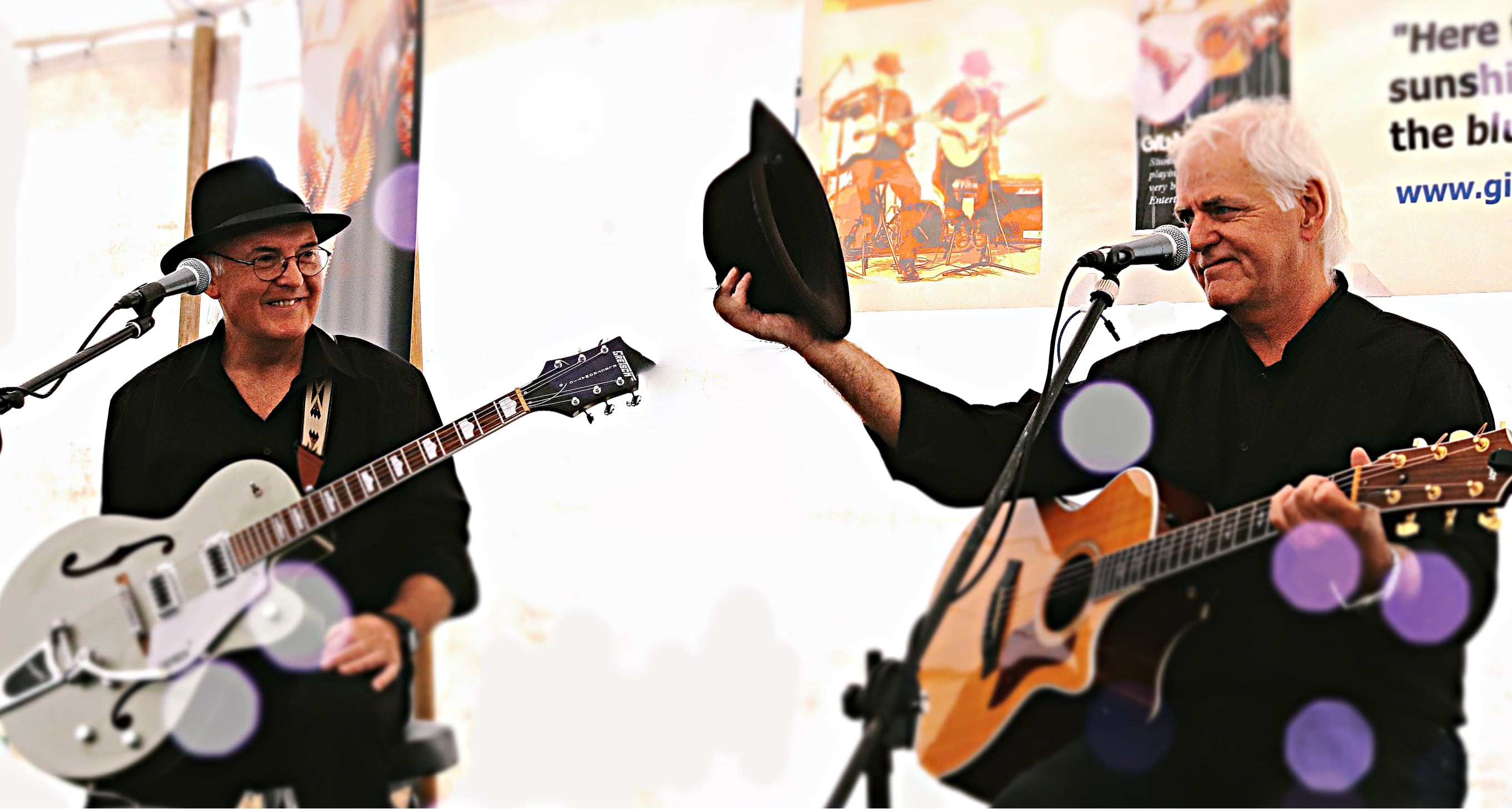 It is a testament to the musical talent and skill of this Latin jazz guitar duo that they were hired by the CEO of  the well known 
TAO Productions for his own wedding reception. When most of your guests are professional  musicians they have high standards.
He needed to book Swindon wedding musicians with the skill to keep his guests, pretty much all of them music business professionals entertained. Gilmore n' Jaz were the answer.
At this particular wedding reception, Gilmore n Jaz found themselves in a strange situation.
About to play their instrumental track 'Marlene The Spy', the musicians joked that it had been turned down as the latest James Bond theme in favour of Adele's offering. They had the interesting experience of finding out that Adele's manager was actually standing right in front of them with Adele on his phone linked to her as she watched the wedding breakfast musicians do their thing from New York! 
Take out the risk. Hire Swindon wedding breakfast musicians you've already heard
Gilmore n Jaz are often booked for Swindon wedding receptions by regular fans or those who have been in the audience at one of their events.
If you live in Swindon, Wiltshire, Gloucestershire, Oxfordshire or Berkshire, take out the risk of the unknown on your special wedding day. Check out our Tour Dates to hear us and talk to to us. Or if you have already enjoyed our music then contact us here.